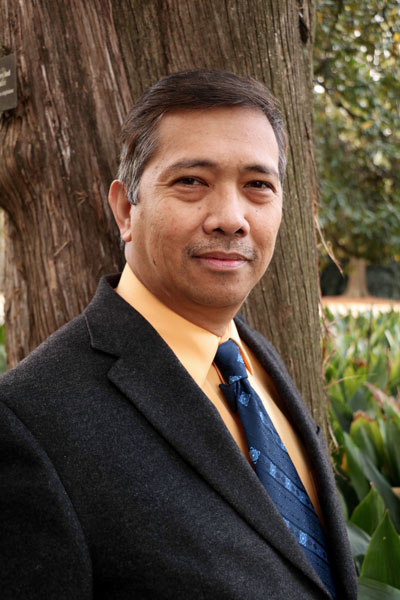 Education
Ph.D., Agricultural Economics - University of Illinois, 2001
M.S., Agricultural Economics, University of Guelph (Ontario, Canada), 1996
Exchange Scholar - International Christian University (Tokyo, Japan), 1984
B.A., Economics - Ateneo de Manila University (Philippines), 1983
Research Interests
Agricultural Finance: Analysis of lenders' risk rating systems and risk management strategies; application of migration framework to farm credit risk analysis
Agribusiness Management: Analysis of farmers' financial structure decisions and business strategies for financial growth, risk management and debt repayment
Immigration, farm labor, and health economics-related issues
Development and microfinance.
Extension/Outreach Activities
Farm financial management, including farm business planning, record-keeping, financial analysis
Awards, Honors and Professional Appointments
2019 First Year Odyssey Teaching Award
2014 Faculty Diversity Award, College of Agricultural and Environmental Sciences, University of Georgia.
Gamma Sigma Delta Honor Society in Agriculture's 2007 Award for Junior Achievement in Research
2019-2021 Diversity Advisory Council
2018-2019 University Aspire Fellow
Outstanding Faculty Member, given by the Graduate Student Association of the Department of Agricultural and Applied Economics, 2009-2010, 2008-2009, 2005-2006
Team Adviser, UGA Graduate Agribusiness Case Study Team, 2nd  Place (2012), Honorable Mention (2016, 2010, 2009), Finalist (2008) in the Agricultural and Applied Economics Association (AAEA) annual competitions
Adviser, AAEA Graduate Extension Competition, 1st Place (2015), 2nd (2017), 3rd (2016, 2014)
Major Professor, Outstanding Master's Thesis Award

Uthra Raghunathan, American Agricultural Economics Association, 2009
Mark M. Byrd, Southern Agricultural Economics Association, 2006
Selected Outstanding Paper Awards
10th Anniversary Best Paper Award (Energies Journal), ""Ethanol, Corn, and Soybean Price Relations in a Volatile Vehicle-Fuels Market." February 2018. (with Zibin Zhang, PhD)
Outstanding Conference Paper:  "The U.S. Immigrant Farm Workers' Relative Access to Health Services" International Conference on Business & Information, Nagoya, Japan, July 2016 (with Tianyuan Luo, PhD)
Outstanding Conference Paper: "Is There Gender Bias in Federal Farm Lending Decisions?" International Conference on Business and Information, Seoul, South Korea, July 2008 (with Uthra Raghunathan, MSc)
Outstanding Journal Article Award for 2000 (Review of Agricultural Economics), "Lease Pricing for Farm Real Estate." American Agricultural Economics Association (AAEA) Annual Conference, Chicago, Illinois, August 7, 2001  
Research and Scholarship Awards
University of Georgia Faculty Research Foundation Award (competitive research grant) for Junior Faculty Members, 2002
Colvin and Agricultural Finance Program Fellowships, Dept. of Agricultural &
Consumer Economics, University of Illinois (1999-2000)
Departmental SODEN Scholarship Award for Academic Excellence given by the Ontario Agricultural College, University of Guelph (1995)
Other Positions
Editor, Journal of Agribusiness (2014-2015), Co-Editor (2009-2013)
Editorial Council member, Journal of Agricultural & Applied Economics (JAAE): 2003-2006
Selected Recent Publications (with manuscript links)
Dhakal, Chandra, C.L. Escalante, and C. Dodson. "Heterogeneity of Farm Loan Packaging Term Decisions:  A Finite Mixtures Approach."  Applied Economics Letters. 26:18 (2019): 1528-1532.
Luo, T. and C.L. Escalante. "The Emigration of Adult Children and Smoking Behaviors of Parents" China Agricultural Economic Review

. 11,2 (2019): 317-335.

Luo, T. and C.L. Escalante. "Health care service utilization of Documented and Undocumented U.S. farm workers."  European Journal of Health Economics,

19,7 (2018): 923-934

.
Escalante, C.L., A. Osinubi, C. Dodson, and C.E. Taylor. "Looking Beyond Farm Loan Approval Decisions:  Loan Pricing and Non-Pricing Terms for Socially Disadvantaged Farm Borrowers." Journal of Agricultural and Applied Economics

50,1 (2018):129-148

.
Luo, T. and C.L. Escalante. "Employer-Provided Health Benefits and Employment Decisions of U.S. Farm Workers."  Agricultural Finance Review.

77,3 (2017): 358-375.

Luo, T. and C.L. Escalante. "US farm workers: What drives their job retention and work time allocation decisions?"  Economic and Labour Relations Review. 

28,2 (2017): 270-293.

Sheremenko, G., C.L. Escalante, and W. Florkowski. "Financial Sustainability and Poverty Outreach:  The Case of Microfinance Institutions in Eastern Europe and Central Asia."  European Journal of Development Research, 29,1: 230-245
Escalante, C.L., Y.Wu, and X. Li. "Organic Farms' Seasonal Farm Labor Sourcing Strategies in the Pre-"Arizona" Mode of Immigration Control."  Applied Economics Letters 23,5 (2016): 341-346.
Jones, G., C.L. Escalante, and H. Rusiana. "Reconciling Information Gaps in Organic Farm Borrowers' Dealings with Farm Lenders." Agricultural Finance Review. 75,4 (2015): 469-483.